View featured homes
New home builders of architecturally designed homes, in New Plymouth and surrounds
For nearly 7 decades, Lockwood has taken pride in producing individual homes for clients in New Zealand including New Plymouth, Taranaki and Hawera.
Our unique building system of pre-engineered interlocking profiles and components has been refined and perfected over the years. The result is that our striking solid timber homes are warm, dry and
low maintenance as well as having proven performance in earthquakes and extreme weather conditions.
Get peace of mind, knowing you and your family will be safe and secure both now and into the future. Either start from new,  or use one of our existing home plans and live well in your new Lockwood home.
Speak to one of our sales and design studio service centre team members about a bespoke home solution for your building site today.
Meet the team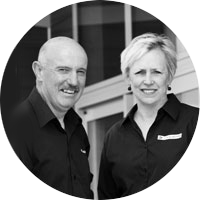 Paul and Margie Jones - Managing Directors
Paul has been successfully running the award-winning Lockwood Taranaki business for almost 30 years. Prior to this, he sold Lockwood Homes for the previous franchise owner. He has a draughting background and more than 20 years of hands-on building experience
Awards and Accreditations

CATGORY AWARD - James Hardie New Homes $500,000 - $600,000