Team Taranaki, headed up by husband and wife Paul and Margie Jones, is made up of qualified and licensed builders with considerable Lockwood experience and expertise. They are long-serving Lockwood Contractors who take great pride in their workmanship and have honed their skills alongside Paul serving the Taranaki region.
Integrity and honesty are fundamental to the team's business philosophy and their success. Paul has a vast depth of product knowledge, both of the Lockwood system and of the housing construction process. His commitment to best practice and quality building is demonstrated by his involvement with Taranaki Registered Master Builders, where he is an active executive member and a past president. Paul and his wife, Margie, love and live in their own Lockwood and it has been a great base to raise their family.
Paul and his team received a Gold Award in the 2015 Registered Master Builders House of the year competition for the home of Myk and Mary Davis in Merrilands, New Plymouth. They also received a gold in the 2012 Registered Master Builders House of the Year competition and came top in three Taranaki award categories: Homes $450-$600; Outdoor Living Award; and Future Proof Building Energy Efficient Award.
This built on several award successes in previous years, including 2010 Supreme Winners House of the Year for Taranaki, National Finalist and Gold Award winner in the Sustainable category $500k+.
Lockwood Taranaki is also actively involved in the Taranaki community, and are proud supporters and sponsors of the Local Racing and Tennis Clubs.
Meet the team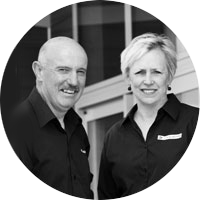 Paul and Margie Jones - Managing Directors
Paul has been successfully running the award-winning Lockwood Taranaki franchise for 26 years, and prior to this he sold Lockwood Homes for the previous franchise owner. He has a draughting background and more than 20 years of hands-on building experience
Awards and Accreditations

CATGORY AWARD - James Hardie New Homes $500,000 - $600,000
Testimonials
Could not be happier with our experience with Paul and his team. He made what was a difficult process for us into a seamless and enjoyable experience. Great builder, great product. Thanks Lockwood! – Will Buchanan, New Plymouth