The winners and finalists for the 2019 Rotorua Museum Art Awards were chosen using a blind judging process, based purely on the merits of the artworks. Judge Leafa Wilson says she knew that the Bay of Plenty had a rich art tradition and this was reflected in this year's entries. "The breadth of media and subject matter always makes it difficult to compare any aspect of one work to another let alone choose one work over another. However, there are a number of works which stand out aesthetically, through the mauri and conceptual strength and for the artists' approach to their subject," explained Ms Wilson.
Rotorua Museum Operations Manager, Cat Jehly, said this year they received the highest number of entries, with 188 artworks from 149 artists.  "The huge interest in this year's competition really highlights the importance of the art awards and the need to support the wealth of artistic talent across the Bay of Plenty."
Lockwood were thrilled to be part of the awards, nurturing young talent with a new Youth Category. We congratulate Bree Straker, our first Lockwood Youth Award Winner, pictured above with Lockwood Managing Director Andrew La Grouw
She was awarded the $1000 prize for her artwork Ruby,  the face of a young woman who is wearing a ruby coloured lipstick. "This work's carefully sculpted paint shows that this young woman understands the manipulation of paint to create the illusion of form," says Ms Wilson.
In addition to the six awards announced on the 22nd of October at the gala award ceremony to a 350 strong crowd, people can also vote for their favourite artwork either in the gallery or via the Rotorua Museum Facebook page. This year the More FM People's Choice Award will offer $500 to the artist whose work receives the most public votes in the gallery and $500 for the work with the most online votes by the end of the exhibition (10 November 2019).
The winners and finalists' artworks will remain on display to the public at the Energy Events Centre, Rotorua (Queen's Drive, Government Gardens), until 10 November 2019.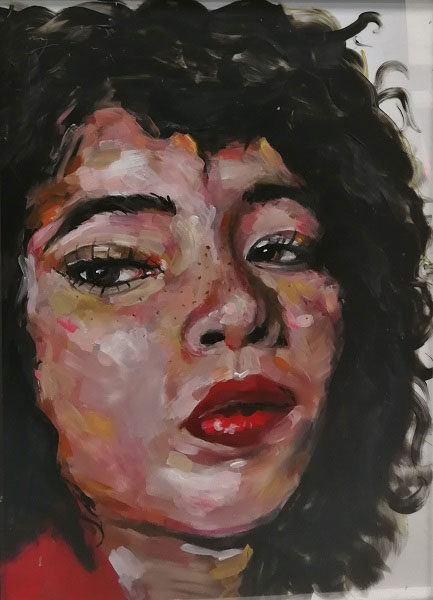 "Ruby" The Lockwood Youth Award winning work by Bree Straker