Good Looking Splashbacks
Splashbacks are a great way to bring a statement piece into your kitchen. There are many ways to approach the look you want to achieve, but some creative ideas you might want to consider for either new builds or renovations are;
Printed themes on glass;
Dramatic skyline in black and white monochrome, or crystal clear water lapping over fronds into a serene pool of water, perhaps funky coloured beach huts or cheeky Tui's – you get the picture! Have your art printed onto the back of a clear glass splashback and set the mood.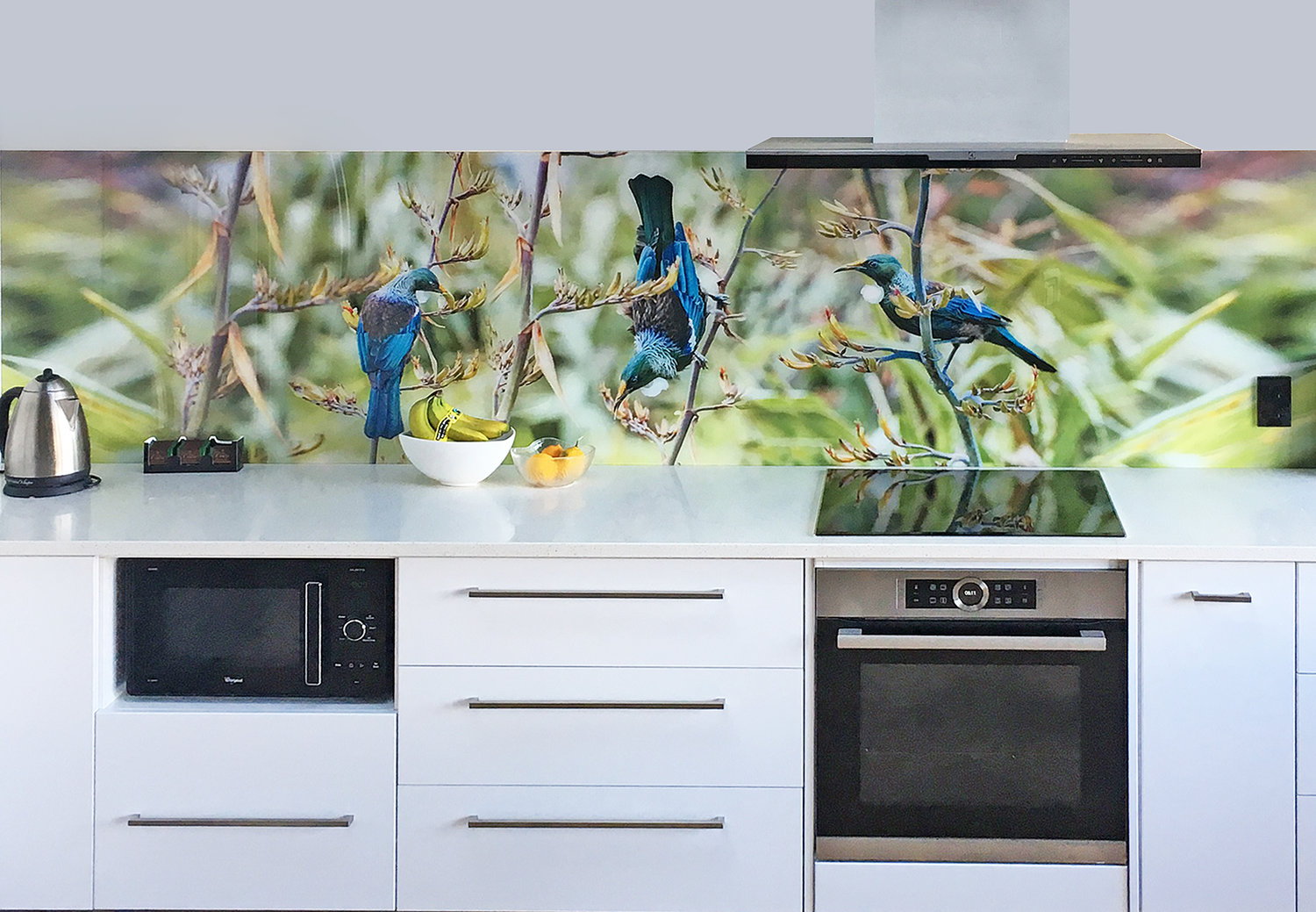 Top Image: "Contemplation" and Image above: "Tui Portrait" splashbacks by www.lucygsplashbacks.co.nz
Wallpaper behind glass
There are some bold and adventurous wall papers around. Choose one that inspires you, paste onto a plasterboard that has a water resistant core and cover with clear glass to protect it. If you have another feature wall, especially in our modern open plan environments, then choosing a complimentary wall paper in the same hue is quite harmonising and brings a sense of flow and connectivity.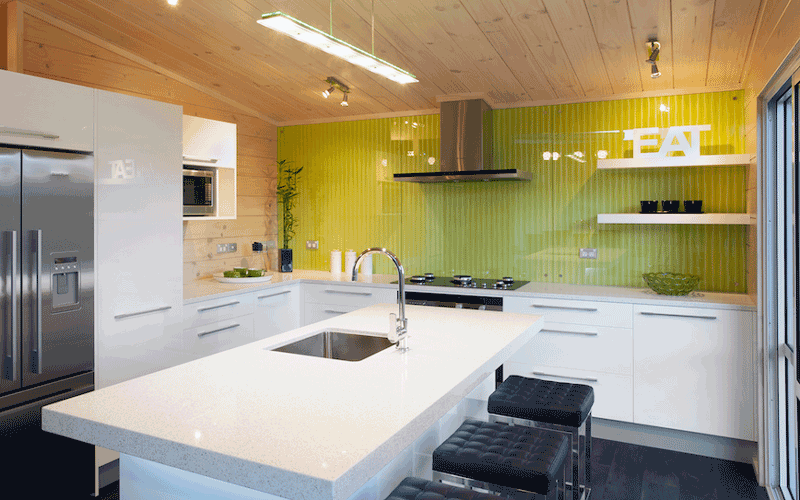 Image: Lockwood Te Rakau Ex show home – glass panels over wallpaper
Metallic look tiles or stamped and pressed metal
Your kitchen has donned a feather boa and is really dressed to impress! These can be left with their natural shiny tin appeal, darkened with a patina, or even painted a colour which best fits your décor and personality. You can go for a dramatic and busy pattern or a slightly pared down version, there are even suppliers who create the pressed sheets to resemble subway tiles.
Image: Dark pressed metal by dirosa.co.nz
Tinted mirrors
These have become quite popular in the last couple of years. Think gold, grey or antiqued if a silvered mirror would be too much to contemplate. They can make a space look much larger as they bounce light around and reflect open spaces and views around them.

Image: Tinted Mirror Splashbacks by www.haynesglass.co.nz
Landscape oriented windows
Here nature has taken care of business for you! Plant up a feature garden with lights and structural planting aspects, include a water feature or garden ornament and you have a beautiful natural canvas which will change with the seasons.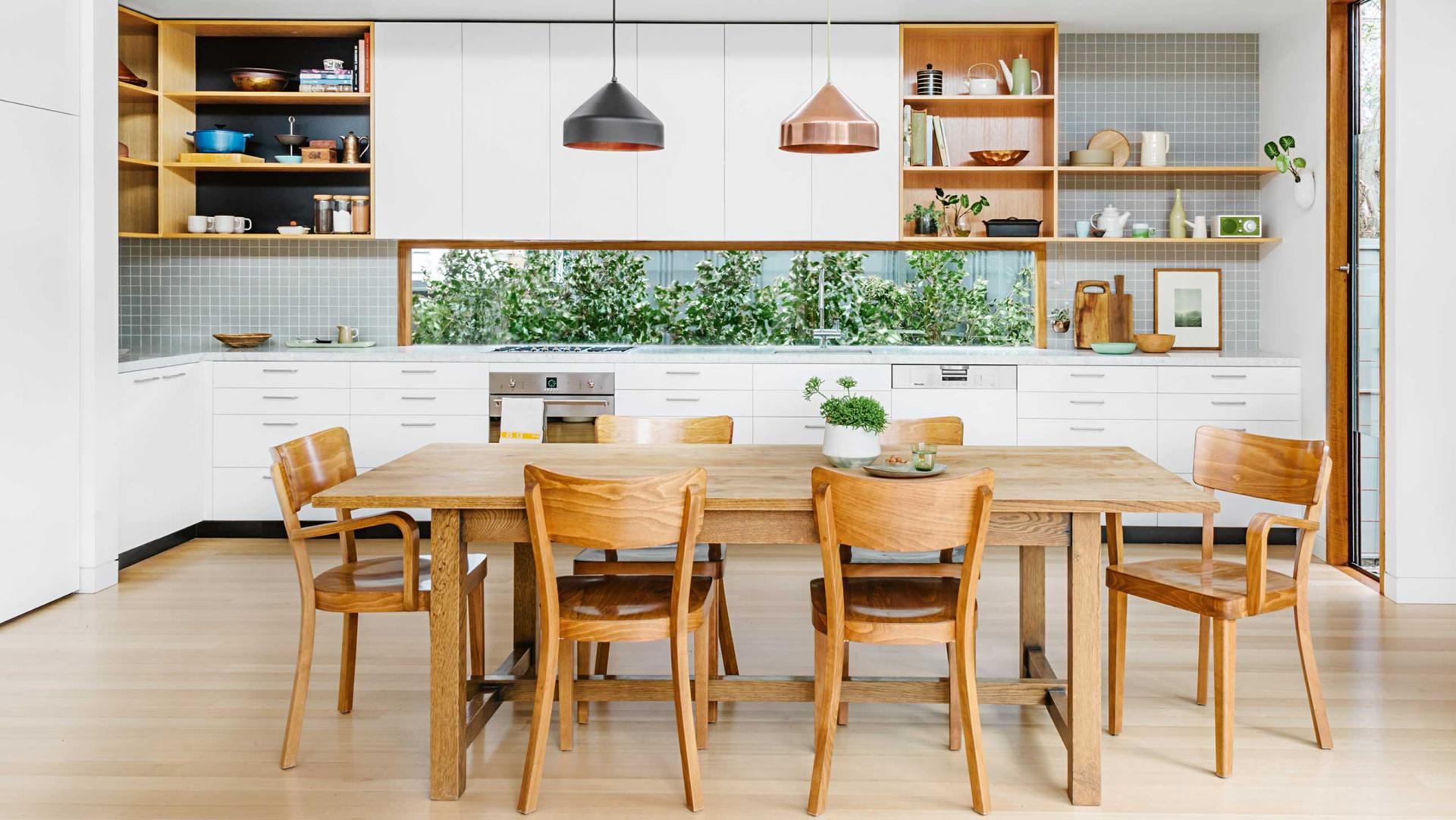 Image: A view to the garden splashback by insideout.com.au
Mosaics, tiles or patterned tiles
Bold colours and textures, wood effects, stone and glass mosaic mixes, brick effects or subway tiles, patterns and textures to delight the senses – the list is simply endless. We popped some onto a Pinterest board here….