A wonderful night of song – Lockwood NZ Aria 2022
A massive congratulations to Emmanuel Fonoti-Fuimaono – winner of the 2022 Lockwood Aria! This prestigious event has been offering New Zealand's finest singers the opportunity to perform in a world-class singing competition for 75 years.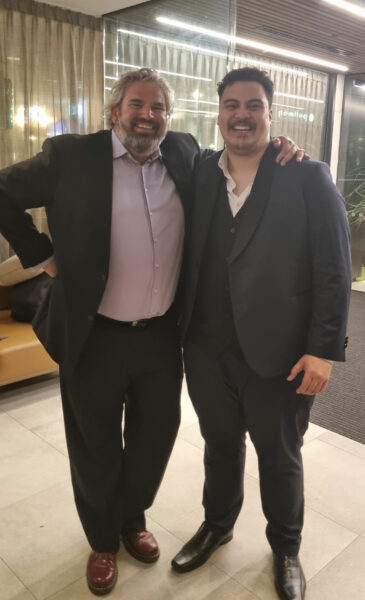 Pictured: Emmanuel Fonoti-Fuimaono with Lockwoods Managing Director Andrew La Grouw
The 2022 Aria was the first event to use the newly refurbished Sir Howard Morrison Centre, which is set for an official opening in February.
New Zealand Aria Trust president Jo-Anne La Grouw said, "Rotorua is so honoured to be able to have such a prestigious event held in its city and very honoured to be the first event held in the performing arts centre,"
42 singers were registered to participate in the Aria, with 10 finalists chosen to perform on finals night, accompanied by the Auckland Philharmonia Orchestra. All the finalists showed incredible talent. The audience were also treated to a guest performance by Christian Thurston.
Emmanuel Fonoti-Fuimaono won the top prize, a package valued at $20,000 sponsored by the Dame Malvina Major Foundation. In second place was Michaela Cadwgan, who won $10,000 cash sponsored by Coombes Johnston BMW, and in third place was Samuel McKeever, who won the La Grouw prize, $5000 cash sponsored by Geyser Community Foundation.
Lockwood is proud to be naming rights sponsors of this wonderful event and congratulates all the finalists and the winners. We look forward to next year's competition!